Vorkuta – as do all of Stalaggh/Gulaggh's works – signifies the futility of existence, of existential angst, of the absurdist notion of deriving meaning from a meaningless world. Caught in an endless cycle of regurgitation disguised as production and creativity, this is our (post)modern condition.
First, this isn't music. There's music in here; well, there are musical instruments that are being struck, beaten, or farted through at least. This, as the "band" describes their aural pieces, is "Misanthropik Nihilistik Audio-Terror". In a previous incarnation, this collection of allegedly top musicians from the Dutch and Belgian black metal / industrial scene were known as Stalaggh, their name referencing the Nazi POW concentration camps that informed their trilogy 'Projekt Nihil', 'Projekt Terrror' and 'Projekt Misanthropia'. The 'gh' stands for "Global Holocaust" and features as an addendum here for their 'Gulaggh' "projekt", again another trilogy, this time based on Soviet Union work camps. And whatever Stalaggh / Gulaggh have chosen for their subject, controversy has long been their shadow. Apparently, the "band" have, in the past, recorded the screams of patients from mental institutions (including ex-prostitutes, rape victims, and patients in children's asylums) for their work (legally, allegedly) as they wanted the pain and suffering to be real and not acted. They needn't have bothered. They could've recorded me having to listen to this shit instead.
Opening with a recording of Stalin ordering his enemies to be sent off to the camps, the next three quarters of an hour consists of ever-mounting tortured screams and off-key music scattered across a hellish soundscape designed to recreate the experience of the Soviet Union Gulag camps. On the first listen, the depiction of the ever-mounting torture is more a surprise than a shock and so the intended effect is achieved, to some extent at least. The effect rapidly diminishes and the listener soon numbs to it. Just like the soldiers in the camp would have been numbed by the endless pageant of torture that they were exposed to on a daily basis; just like we have become numbed by the portrayal of war to war itself; just like we have become numbed by the depiction of violence to violence itself; just like we have become numb to capitalist ideology and the numb reproduction of that ideology. Etc., etc., etc…
Stalaggh's rebranding as Gulaggh is a masterstroke in deception. There's nothing new here. Give one listen to any one of the Stalaggh works and you'll hear the same merry medley of escalating screams and discordant instrumentation. The album's subject is irrelevant because it is its form that is at its core, and its form is the manipulation of style for its effect. That I've spent more time thinking about the album and what to write in this review than listening to this shit is testament to its effect. Art is supposed to make the listener think about its subject and its relevance, or irrelevance if you like. 'Vorkuta' – as do all of Stalaggh/Gulaggh's works – signifies the futility of existence, of existential angst, of the absurdist notion of deriving meaning from a meaningless world. Caught in an endless cycle of regurgitation disguised as production and creativity, this is our (post)modern condition. Limited edition or specially packaged copies of this will soon be (or possibly already are) selling on e-bay for ridiculous amounts, no doubt with elitists battling it out for the possession of cultural capital. But no one will listen to this more than once alone. This will be no more than an ornament atop the fireplace, a discussion piece for pseudo-intellectuals everywhere. Just like this fucking review…
[Review by Jason Guest @ metal-discovery.com]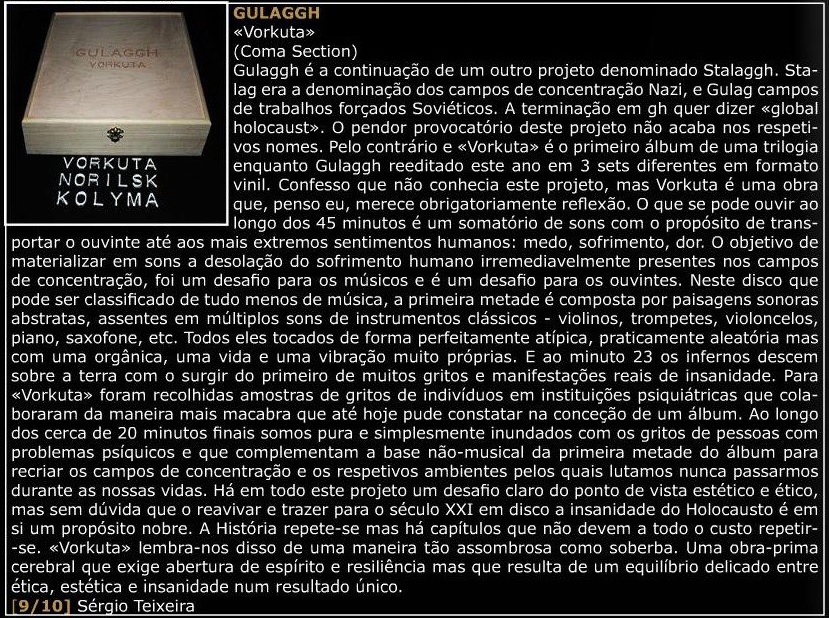 [Review by Sergio Teixeira @ Versus Magazine (no.24)]
W
ell, where do you start with something like this? Incredibly tough to categorise, my best description would be Audio-Horror. In an interview they described themselves as 'Audio-Terror' but I think that 'horror' is a more accurate representation. 'Terror' seems far too short and sharp whereas 'horror' alludes more to a gradual but unrelenting build up of true fear and disgust. That is what this album is; frighteningly disgusting. I can only imagine that the idea of this is to conjure images in the mind of what it would be like to be suffering as people did in those horrible Arctic torture gardens. It really is nasty stuff.
After completing three albums under the name Stalaggh, this group of 'musicians' decided to change their focus from concentration camps to the equally disturbing idea of Soviet Gulags, hence the name (they kept the GH suffix, standing for Global Holocaust). The premise is relatively similar; to evoke an unending wave of negative emotions using a basic noise/ambient track over intermittent spasms of music all topped off by screams of the mentally insane. That's not a metaphor. The vocals on these albums are actually the recorded screams of patients with severe mental disorders. An interesting accomplishment, since one wonders how this group of anonymous 'musicians' managed that. Information from one of a limited number of interviews with one of the core members (who also provided some of the vocals) explains that some of the patients were allowed to leave for a few days but that some of them live under their own guidance and are free to do as they please. Not quite as impressive as the legend surrounding their last album of them kidnapping mental patients and recording their screams in a church, telling the Vicar that it was some sort of 'scream therapy'. The man specifies that 'they are not retards' but suffer from disorders such as schizophrenia, psychosis, multiple personality disorder etc. Knowing that the screams are really pulled from the depths of pain and disorder really does make for an incredibly uncomfortable listening experience, especially with the single track album spanning a relentless 45 minutes.
Progressing slightly from the last Stalaggh instalment of Projekt Misanthropia, the sound has changed subtly yet somehow quite dramatically. The sound is much bigger as they have decided to use the screams of many more patients and brought in a few more musicians to throw in their random two cents. Completely abandoning the Black Metal aspects that they used in earlier offerings in favour of a more chaotic traditional marching band they really have managed to capture audio-PAIN.
There is something quite cathartic about listening to this album and it is actually quite enjoyable if you like exploring the darkest depths of your own mind. However this is not for the faint of heart or head, you will not enjoy this or probably even see a point in this if you keep your mind closed to the idea of experiencing the extremes of negativity in your own consciousness. I would recommend getting a hold of this album just for the experience, even if you listen to it only once and then brag about how 'Kvlt' your last album buy was to all your friends.
Try it. I dare you.
S
o mancher hat sicherlich schon einmal den Namen Stalaggh vernommen und ich erinnere mich mit Schrecken an jenen Müll, der sich damals in meiner Anlage wiederfand. Nachdem man die Trilogie unter diesem Namen abgeschlossen hatte, gebar man ein neues Monster: Gulaggh.
Was es mit diesem Namen auf sich hat, sollte jeder normal gebildete Mensch eigentlich wissen, und der Titel dieses Werkes hört auf "Vorkuta" – eben eines jener berüchtigten Lager.
Vielleicht sollte ich am besten damit beginnen, was Gulaggh von Stalaggh unterscheidet. Stalaggh steht für unerträglich schlechten Noise und ist lediglich eine Beleidigung für all die, welche mit ihrer Musik auch etwas erreichen wollen. Ich spreche nicht von Ruhm, sondern Anspruch und Können. Weitere Worte sind einfach pure Verschwendung, also kommen wir zu diesem hässlichen Teil.
Gulaggh ist unerträglich. Unerträglich langweilig, fernab von Musik, Melodien und Rhythmen. Oder soll es tatsächlich ausreichen, minutenlange Lautsprecherdurchsagen, schreiende Menschen und taktloses Getrommel als etwas Anspruchsvolles zu verstehen?
Die Info, dass hier eigentlich nur klassische Instrumente wie Geige und Trompete verwendet wurden, kann mich nicht umstimmen. Vielleicht mag es für so manchen verlockend klingen, wenn die hier verwendeten Schreie von Geisteskranken und einer Jugendanstalt entnommen wurden...
Gulaggh ist keinen Deut besser oder gar anspruchsvoller als Stalaggh. Was hier zum Vorschein kommt, ist schlicht und einfach sinnloser Dreck! Selten bediene ich mich solch scharfer Worte, aber wenn man eine solche Thematik aufgreift, dann sollte man sich doch besser vorher auch seine Gedanken darüber machen. Den Hirnen dieser Flachbrettbohrer entfleucht lediglich blauer Dunst, gespeist aus talentfreiem Blödsinn, der wirklich keinerlei Beachtung verdient. Wer auch nur ansatzweise etwas auf sich hält, der sollte solchen Mist auch nicht unterstützen!
Auch hierbei handelt es sich um eine angekündigte Trilogie, ich hoffe, dass den Burschen vorher schon die Puste ausgeht...
So ist Gulaggh schon jetzt ein absoluter Topanwärter für die Niete des Jahres und "Vorkuta" gehört nur dorthin, wo vollgeschissene Windeln und vergammeltes Essen landen – auf den Müll!
I
st das Kunst, oder ist das krank? Bildet Euch Eure eigene Meinung. Nach Stalaggh wurde mit "Vorkuta" der erste Teil der Gulaggh Triologie auf Vinyl gepresst. Workuta ist ein Ort im Norden von Sibirien, in dem eines der schlimmsten Konzentrationslager des nördlichen Polarkreises steht. Damals wurden viele politische Gefangene von Stalin in diese Einöde verfrachtet, um ein Bergwerk zu errichten. Des Weiteren machte sich der Ort einen Namen als Streikgelände in der Ära Boris Jelzin. Die beklemmende Atmosphäre in dem Konzentrationslager wirkt recht authentisch und ist nur mit wenigen klassischen Instrumenten unterlegt. Ansonsten vernimmt man in dem sechsundvierzig Minuten "Song", Lautsprecher und Wärteransagen und die damals vorhandene Dramatik in dieser Hölle. Die verzweifelten Schreie oder Hilferufe der gepeinigten Opfer wirkt wie eine Art Audio Terror und ist garantiert nichts für schwache Nerven und hat auch wenig mit Musik zu tun. Solltet ihr daran Interesse finden, kann man auch in die noch folgenden "Kolyma" oder "Norilsk" reinhören.
[Review by Markus Peters @ crossfire-metal.de]
I
t is a reviewer's heaven when they come across so unlike everything else they have heard that they feel really challenged. This is the case with Gulaggh, a band that is the logical continuation of Stalaggh, a mysterious collective consisting of unnamed musicians from the Dutch and Belgian black metal and electronic ambient scenes. Stalaggh released a trilogy of albums consisting only of single songs, and then disbanded to become Gulaggh, who have also planned a trilogy of experiments in anguish named after Soviet prison camps, or gulags. The supplementary letters GH stand for "global holocaust", just like with Stalaggh who were named after the German concentration camps.
Vorkuta was initially released in 2009 and is now available on vinyl, although the three quarter hour long track must be broken up to fit on the two sides of an LP. What is new for Gulaggh is that they did completely without electric instruments and instead focused all their attention violins, trumpets, saxophone, etc. As one of the band members works in a mental institution, they even got the permission to use the inmates as the vocalists on the album. In the past, Stalaggh worked already with a convicted murderer of his own mother, and someone who committed suicide shortly after the release on an EP on which he "sang". This time we get a whole bunch of mental patients an thirty children from a youth mental asylum.
This first part of the trilogy consists, as I mentioned before, of a single, album-filling track, and honestly, this can't be called music in the traditional sense of the word. There is no underlying structure or rhythm, and I am not even sure if the musicians know how to play their chosen instruments, but frankly, I couldn't care less. The music sounds like a bizarre crossection between free jazz and avant-garde classical music, with total atonality at its root, and all performed with the evil outlook of a diehard black metal band. The voices are haunting, screeching, full of pain, longing, fear and utter confusion. The only thing approaching this slightly is Celtic Frost's masterpiece Danse Macabre, but Vorkuta is even more uncompromising and unrelenting. This is an uttermost spooky rollercoaster ride through the darkest depths of the human psyche once it has lost contact with reality. And the best, or worst, of it is its authenticity. Once you realise that none of this is faked, you feel a sense of guilt, as if enjoying some kind of snuff movie.
I don't know if this is exploitation of mental patients or giving them an outlet for their twisted emotions, but it sure does take guts to pull something like this off. At first I wanted to leave this album with my total support and recommendation, but without an actual grade, but then decided that it does deserve the maximum of ten points. This is something totally different, maybe not really enjoyable, but without a doubt incredibly fascinating. I am already looking forward to the next two parts of this trilogy.
G
ulaggh are a band from the Netherlands that plays a harsh form of noise with black metal influences and this is a review of their 2012 album "Vorkuta" which was released by Coma Selection.
Violins and trumpets bring a very avantgarde sound to the music while also capturing the brutality of harsh noise mixing in some black metal elements as well as some percussion, vocals are all samples taking from Soviet camps during the second world war.
Song themes cover torture and suffering, while the production has a very dark, raw and primitive sound to it where you can hear all of the musical instruments that are present on this recording with the only song on this album being over 45 minutes long.
In my opinion Gulaggh are a very great sounding classical/noise hybrid with some black metal influences and if you are a fan of this musical genre, you should check out this band. RECOMMENDED.