October 21, 2011

Accepting reservations of Demogorgon | Alphabetum Stygium work by V.Scavr. To submit your booking follow distribution link.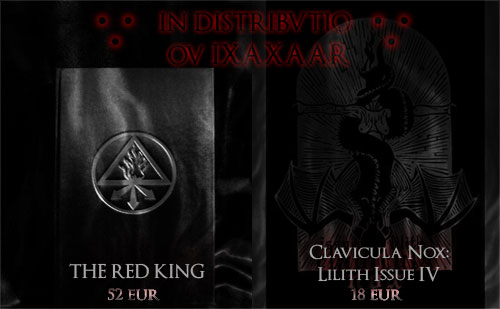 New Lithuanian review of Leaving the Garden
New titles in distribution: two books by IXAXAAR and four Gnaw Their Tongues CDs from Crucial Blast including new album Per Flagellum Sanguemque, Tenebras Veneramus
Ongoing production of conceptual vinyl releases involving numerous artists of various approaches, preparation for black edition and procession ov thee Mortido Tapes "Mortui Vivos Docent".
September 23, 2011


New arrived items in stock from Cold Spring along with two self-released albums in distribution. Major website version update soon.
July 14, 2011


Limited Special release of new book from Vox Inferni Press, printed by Section XIII·.·COMA, written works by Signifer collected by Res Satanae.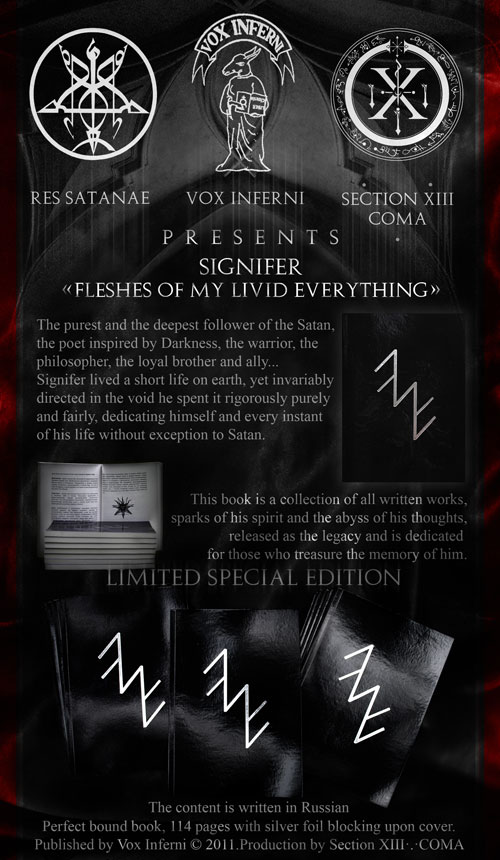 IN DISTRIBUTION NOW A.M.S.G. by V.Scavr released by The Black Press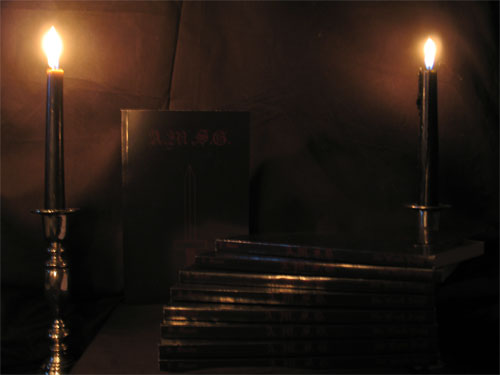 Review for D'Monique Velsmord
Nicola Tenani @ SoundsBehindTheCorner
Review for Creatures of the Abyssal Depths
on NoEasyListening
on Tempelores
on SoundsBehindTheCorner
Review for Leaving the Garden
on Avantgarde-Metal
on Damned By Light
on Terror.lt
on SoundsBehindTheCorner
on Tempelores
Review for Alone With God
on Avantgarde-metal.com
on NoEasyListening
Major updates upcoming this month.
March 16, 2011


SXIIICD003 IGNIS DIVINE - CREATURES OF THE ABYSSAL DEPTHS CD RELEASE
Official release of two long waited albums: occult dark ambient Ignis Divine presents full length opus "Creatures of the Abyssal Depths" and Lithuanian audio-visual artist Daina Dieva brings "Leaving The Garden". We now offer Special and Regular editions of both albums. Visit releases page for full info.
SXIIICD004 DAINA DIEVA - LEAVING THE GARDEN

February 13, 2011



Necrosis XIII books arrived from press. Everyone placed orders before 11 of February should receive their copy in upcoming week.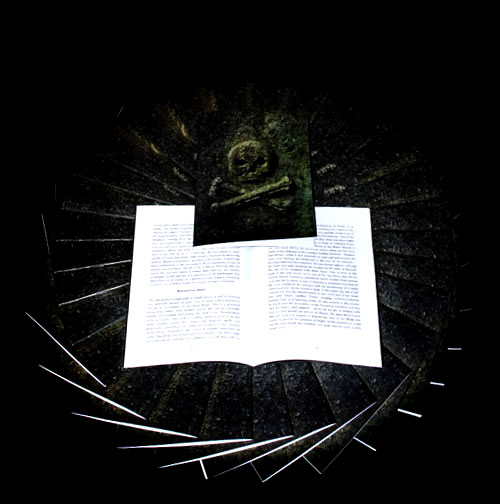 IMPORTANT NOTICE: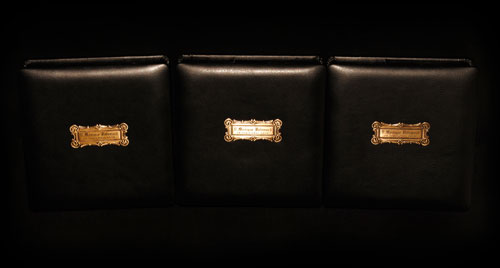 Change of D'Monique Velsmord Special Edition packaging. From now the rest of Special copies of D'Monique Velsmord album are housed in slightly different black leather cases. These luxury soft padded square cases are thick enough in depth to house all extras including YIIIX tape with case, and have a tiny screw inside that will hold the disks in place. New cases also include single photograph of V·.·D·.·W·.·V·.· attached inside (in every case unique). The price is the same €27.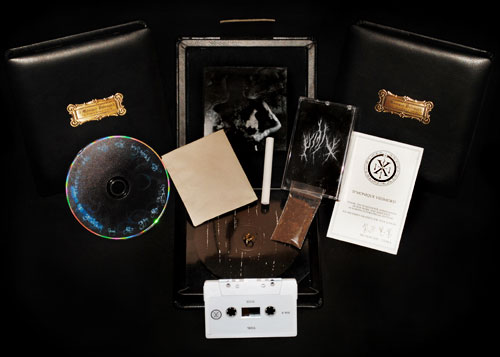 January 27, 2011



New publishing of Vox Inferni now available for pre-orders. Expected official release in early February, in limited edition of 100 copies. International customers following Vox Inferni releases please refer to this page.
Back in stock: Inferion Infernal Tarot and Via Infernali by Vox Inferni.
At press now: Ignis Divine full-length CD Creatures of the Abyssal Depths. Daina Dieva Mini-album Leaving the Garden currently in production.
Special and regular editions of both albums expected in February.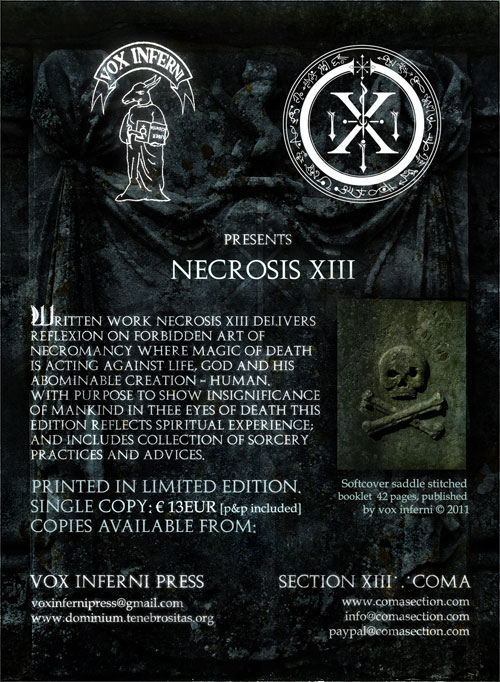 December 31, 2010



Like Drone Razors Through Flesh Sphere full length CD "Alone With God" official release. To order regular / special copy, proceed to releases section.
Regular edition packed in white jakebox - €10; crafted special edition - €20 (p&p worldwide included).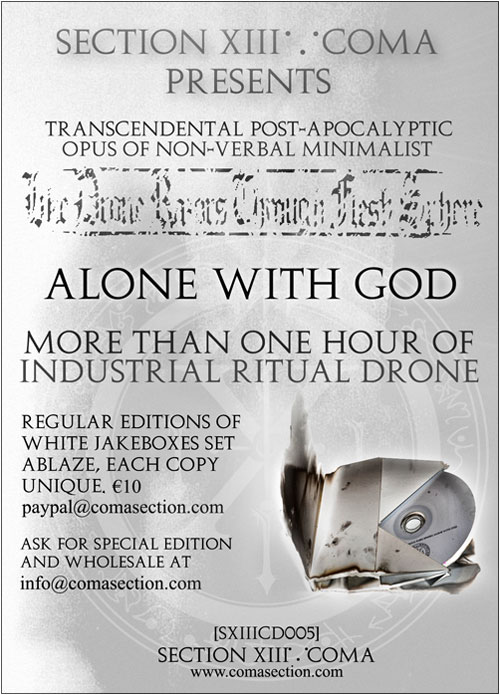 December 2, 2010



IMPORTANT NOTICE:
1. Due to the ongoing severe weather conditions in England items, purchased from last days of November, will be despatched as soon as the traffic conditions become safe and sensible.
2. In regards to upcoming National holidays, post offices to be closed. Prior to placing your order, please refer to this schedule:
UK Mainland available up till 23rd December as Recorded Delivery, Special Delivery and Next Day Delivery (for orders placed 20 – 22 of December, please contact us to get more precise p&p).
Overseas Mail:

South and Central America, Caribbean, Africa, Middle East, Asia, Far East (including Japan), Australia and New Zeland – closing date anno Monday 6th December.

Eastern Europe, USA and Canada – Friday 10th December.

Western Europe – Monday 13th December.

If placed after these dates, please be aware that orders to overseas to be dispatched after 5th January 2011.

November 12, 2010



The first of annual collectable V/A tapes 'Tenebra Rervm' released now. Everyone ordered any Special Edition album release receives free tape to their collection.
Thank you to all participating artists and projects.
November 1, 2010



Like Drone Razors Through Flesh Sphere signed to SXIIIC with new releases upcoming soon.
Official release of long awaited D'Monique Velsmord mantra.
New titles in distribution section.
In creation now: Ignis Divine 'Creatures of the Abyssal Depths' and Daina Dieva albums.
August 14, 2010



- Updates in Policy section. Please read this before contacting with regards to any relevant query.
August 8, 2010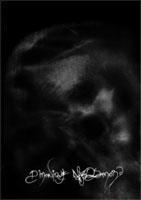 D'Monique Velsmord official PREORDERS started now.

Click here for details and preorders. Available in both limited collectors edition of 13 copies and regular edition. All preordered items to be despatched before the 15th of September. To be released in September.




August 5, 2010



- Edition of 111 Gate To Void 'Black Empty Void' CDs are

upgraded to 200 COPIES

.
Printed parts and packaging of regular editions are ready for sale. Visit release section to order.


July 29, 2010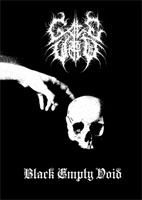 Gate To Void chao:logy "Black Empty Void" is signed for release through Section XIII˙.˙COMA; the first album is officially released now. Limited edition ov 111 pressed CDs available in special collectors packaging (limited to 13) and regular edition copies. More info here



June 17, 2010



Visual Artist subsection updated with French visual alchemic Hypsis and occult illustrator St.John of Inkshadows works.

Now in production Gate To Void debute album Black Empty Void part I. Official release date soon to be revealed.


April 18, 2010



- Official web-site launch. Associated acts include Daina Dieva, Ignis Divine, A.E.P., Gate To Void and Videl. Currently Coma Section is official distributor of Vox Inferni Press.
The First part of Gate To Void trilogy 'Black Empty Void' release scheduled for May.